Upgrade Now for Future-Proofing!
Future-Proof Your eCommerce Store with Expert Magento 2.0 Upgrade Services
At Team Magento, we understand the importance of staying ahead of the curve regarding e-commerce technology. That's why we're proud to offer our expert Magento 2.0 upgrade services to help future-proof your online store. With our team of experienced developers and designers, we'll ensure that your store stays up-to-date with the latest features and functionality. Our Magento 2.0 Upgrade services offer a comprehensive solution for businesses looking to take their eCommerce store to the next level. Our team of professionals will work with you to upgrade your current Magento 1. x platform to the latest and more efficient Magento 2.0 platform. With improved security, scalability, and user experience, your online store will have the latest technology and capabilities to drive growth and success. Whether it's customizing themes, migrating data, integrating extensions, or optimizing performance, our team has the expertise and experience to ensure a seamless upgrade process. Enhance your eCommerce store with Magento 2.0 and take your business to new heights.
Upgrade Now for Reliable Security!
Don't Compromise On Security –
Choose Our Reliable Magento Upgrade Services
At Team Magento, we are committed to providing reliable and comprehensive Magento Upgrade Services that meet the unique needs of your eCommerce business. We understand the importance of keeping your Magento store secure and up-to-date, so we offer various services to protect against potential cyber threats. Choose our expert services, and rest assured that your eCommerce business is safe.>
Migration to Magento 2.0
We offer seamless migration services that help you move your online store from Magento 1.9 to Magento 2.0 without data loss or downtime.
Theme customization
We offer theme customization services to help you create a unique and personalized online store that aligns with your brand image and attracts more customers.
Performance optimization
Our performance optimization services ensure that your online store runs smoothly and quickly, leading to improved user experience and higher conversion
rates.
Extension upgrades
We provide upgrades for Magento extensions to ensure that they are compatible with the latest version of Magento and do not interfere with your online store's performance.
Security upgrades
Our security upgrades ensure that your Magento store is secure and protected against potential cyber threats and attacks.
Integration services
We offer integration services that enable your Magento store to seamlessly connect with other third-party applications and services, such as payment gateways, shipping providers, and marketing automation tools.
Mobile optimization
Our mobile optimization services ensure that your online store is fully responsive and optimized for mobile devices, providing a better user experience and improving your search engine rankings.
Custom development
We offer custom development services to help you add new features and functionalities to your Magento store tailored to your business needs.
Ongoing support
We provide ongoing support services to ensure that your Magento store runs smoothly and efficiently and to help you address any technical issues that may arise.
Upgrade Magento with Expert Assistance!
Let Our Experts Handle Your Magento Upgrade and Enjoy Peace of Mind!
At our company, we understand the challenges that come with upgrading your Magento store. It can be time-consuming, complex, and stressful, especially if you lack the expertise to do it correctly. That's why we offer Magento Upgrade Services to take the burden off your shoulders and give you peace of mind. Our team of experts has the experience and knowledge to upgrade your Magento store seamlessly, ensuring that everything runs smoothly. We use the latest industry standards and best practices to ensure that your Magento store is always secure and up-to-date. By letting us handle your Magento upgrade, you can focus on running your
business, knowing that your store is safe. Our goal is to provide you with a hassle-free and worry-free experience, so you can enjoy the benefits of an upgraded Magento store without any stress or hassle. Trust our experts to handle your Magento upgrade, and enjoy peace of mind knowing that your eCommerce business is in good hands.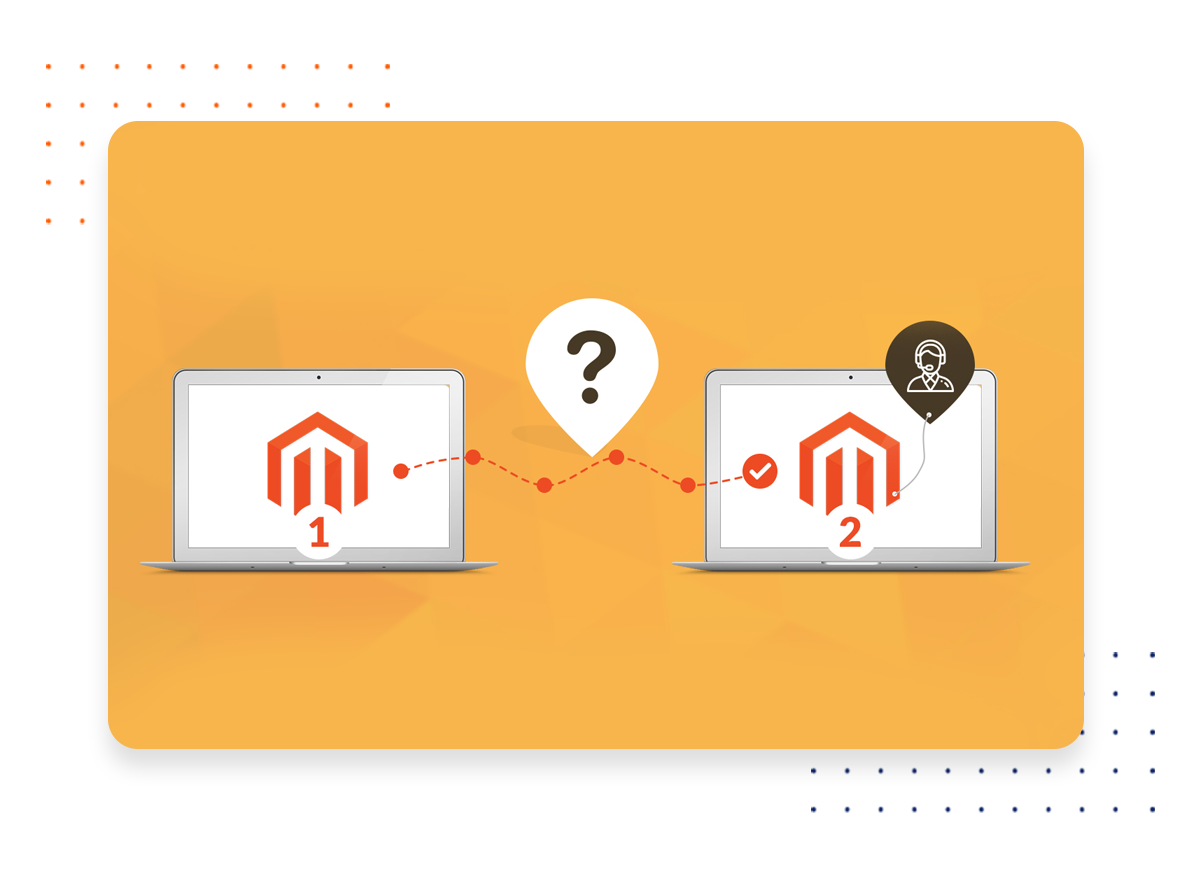 Ready for a Change?
Don't Let Magento 1.9 Hold You Back – Say Hello to Magento 2.0
Magento 1.9 has been a popular e-commerce platform for several years, but as technology advances, it has become outdated and is no longer supported by Magento. As a result, it is essential for online businesses still using Magento 1.9 to migrate to the latest version – Magento 2.0. Magento 2.0 is a significant upgrade from its predecessor, offering improved performance, scalability, security, and functionality. It also provides a better user experience and helps businesses stay ahead of the competition in the ever-evolving e-commerce industry. By upgrading to Magento 2.0, online businesses can take advantage of the latest features and technologies to boost their sales, enhance customer satisfaction, and future-proof their online store.
Improved performance and speed.
Enhanced scalability and flexibility.
Better security and protection.
Advanced functionality and features.
Streamlined checkout process.
Improved search capabilities.
Simplified admin interface.
Better mobile responsiveness.
Upgrade with us!
We Make Magento 1.9 Upgrade a Breeze
Personalized upgrade solutions for every business.
Experienced team of Magento developers.
Seamless data migration with no downtime.
Upgrades for customizations and extensions.
Extensive testing and quality assurance measures.
Comprehensive training and support for clients.
Affordable and flexible pricing options.
Transparent and open communication throughout the process.
Timely completion of upgrade projects.
Commitment to client satisfaction and success.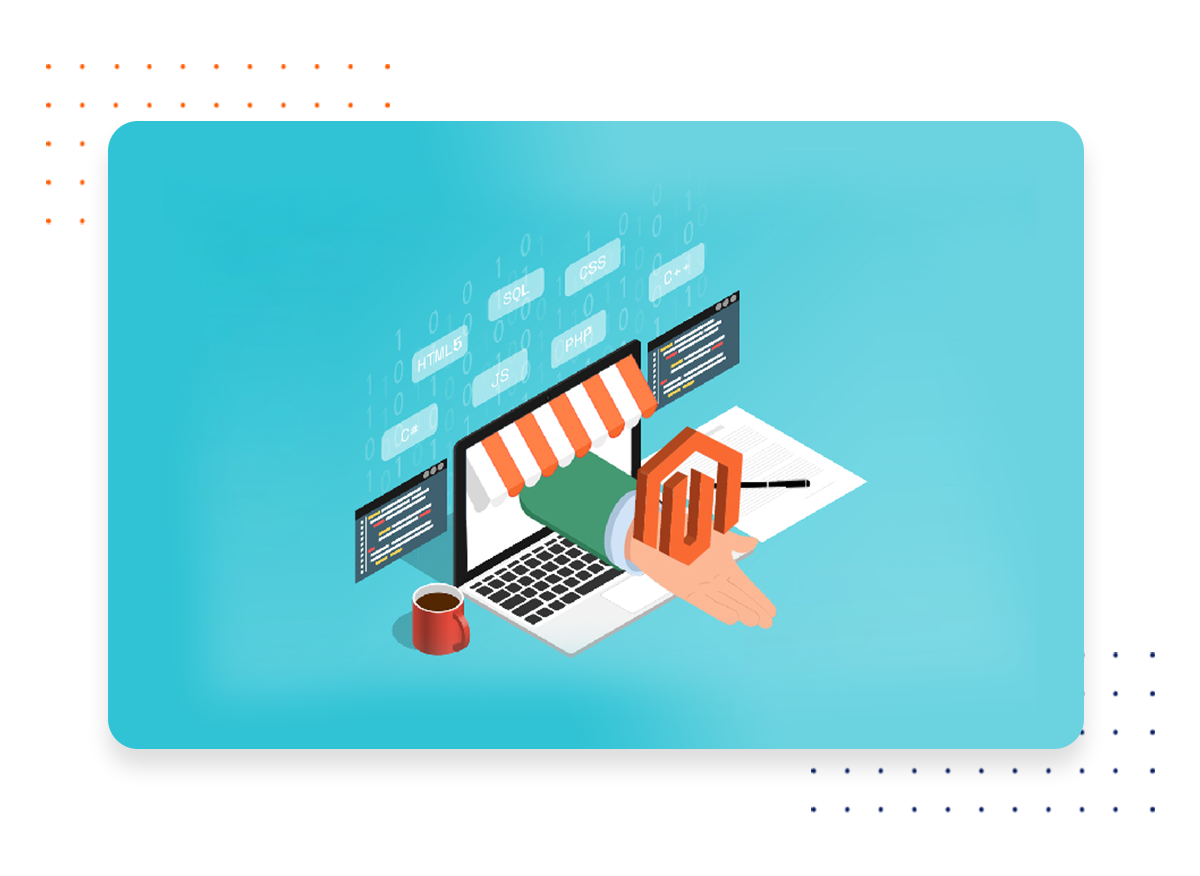 Upgrade Magento with Confident Experts!
Upgrade Your Magento Store with Confidence –
Choose Us for Our Extensive Expertise
Extensive Magento experience
Our team has extensive experience working with Magento and has completed numerous successful upgrades for enterprises of all sizes.
Robust project management
We have a dedicated project management team that ensures every project is completed on time and within budget.
Proven upgrade methodology
Our upgrade methodology has been refined over the years, ensuring a smooth and seamless upgrade process for our clients.
Thorough testing
We conduct thorough testing on all upgrades to ensure your store is fully functional and free of bugs or errors.
Customized upgrade solutions
We offer customized upgrade solutions tailored to the specific needs of your enterprise, ensuring that your Magento store meets your unique business
requirements.
Streamlined Checkout Process
Magento 2.0 features a more streamlined checkout process that makes it easier for customers to purchase products from your store, reducing shopping cart abandonment rates.
Agile development
We use an agile development methodology to adapt to changes and deliver high-quality results quickly.
Competitive pricing
We offer competitive pricing for our upgrade services, providing excellent value for our clients.
Excellent customer service
Our team is dedicated to providing excellent customer service and support, ensuring that our clients are satisfied with our services and continue to choose us for their Magento upgrade needs.

Jane D.
Team Magento's team of experts made upgrading our Magento store stress-free. Highly recommend their Magento Upgrade Services!

Robert B.R.
The team at Team Magento recommended an upgrade to the latest Magento version to improve our store's performance. Thanks to their expertise,

Antony J.
As a small eCommerce business owner, we were worried about the cost and complexity of upgrading our Magento store. However, this company's team of experts provided affordable.