Cart Development for More Sales!
Maximize Your Sales Potential with Magento Shopping Cart Development
Suppose you want to take your e-commerce business to the next level and maximize your sales potential look only as far as our Magento shopping cart development services. With Magento's robust features and our team of expert developers, we can create a custom online store that meets your unique business needs and drives sales. Our team has extensive experience creating user-friendly and visually stunning online stores optimized for conversions. From easy navigation and intuitive checkout processes to seamless integrations with payment gateways and shipping providers, we ensure your customers have a seamless shopping experience. With Magento's powerful SEO capabilities, we can help you to rank higher in search engines and attract more organic traffic to your online store. If you are a small startup or a large enterprise, we have the expertise to help you achieve your e-commerce goals.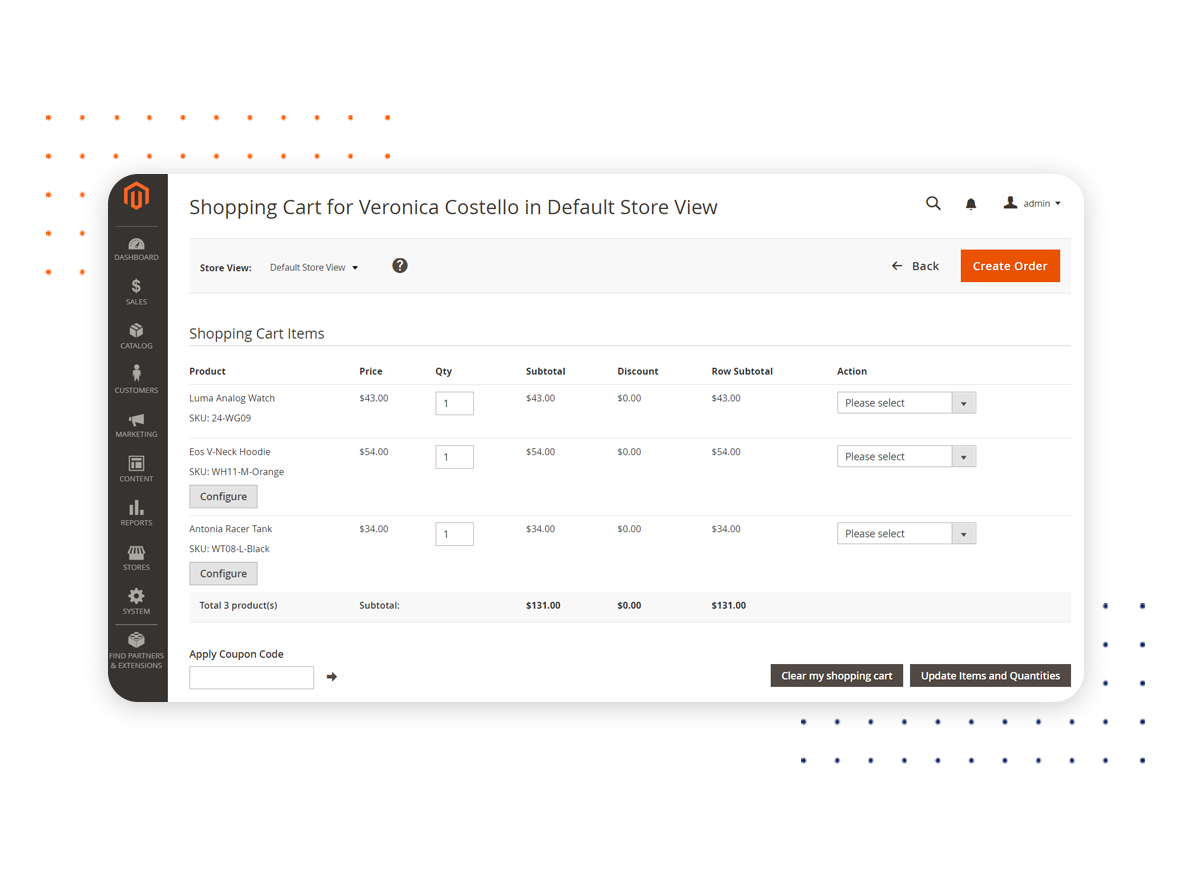 Maximize Your Magento Store's Potential
Revamp Your Online Presence with Professional
Magento Development Services
Our team of experienced developers uses the latest technology and innovative approaches to delivering high-quality solutions that meet the specific needs of each client. Whether you're looking to enhance your online store or streamline your operations, we have the expertise to help you succeed. Our company offers a range of Magento development services, including
Magento eCommerce Development
Our team of experts provides end-to-end eCommerce development services, from design to launch. We help businesses build online stores that are visually appealing, highly functional, user-friendly, and optimized for better conversion rates.
Magento Theme and Template Design
We offer custom Magento theme and template design services to enhance the look and feel of your online eCommerce store. Our designers create unique, responsive themes tailored to your needs and requirements.
Magento Extension Development
Our team develops custom Magento extensions to add additional features and functionality to your online store. Whether you need to integrate with a third-party service or create a custom workflow, we have the expertise to deliver a solution that fits your business needs.
Magento Payment Gateway Integration
We offer seamless integration of various payment gateways with your Magento store, ensuring secure and hassle-free transactions for your customers. Our team will assist in choosing the right payment gateway and integrating it with your store.
Magento Customization and Integration
Our team specializes in customizing and integrating various systems with your Magento store, including CRMs, ERPs, and other third-party applications. We help businesses streamline operations and improve efficiency by integrating these systems with their online store.
Magento Multi-Store Development
We provide multi-store development services to businesses that need to manage multiple stores from a single platform. Our team will help you set up and manage numerous stores efficiently, reducing operational costs and increasing sales.
Magento Module Development
We develop custom modules to add specific features and functionalities to your Magento store. Our team has the experience and expertise to deliver fully compatible modules with your store and meet your particular requirements.
Magento Data Migration Services
We offer data migration services for businesses looking to move their online store to Magento. Our team will ensure a smooth transition of your data and help you avoid any downtime during the migration process.
Magento Shopping Cart Development
We develop custom shopping carts tailored to meet your business's specific requirements. Our team will help you create a shopping cart that is user-friendly, secure, and optimized for better conversion rates.
Magento 2 Upgrade and Migration
We offer Magento 2 upgrade and migration services to help businesses stay up-to-date with the latest technology and security standards. Our team will help you smoothly migrate your store to Magento 2 and ensure a seamless transition.
Magento Inventory Management
Our team provides inventory management services for businesses that need to manage their products, orders, and stock levels effectively. Our experts will help you streamline your inventory management process, reducing operational costs and improving customer satisfaction.
Shipping Method Extension Development
We develop custom shipping method extensions tailored to meet your business's specific requirements. Our team will help you create shipping methods that are efficient, cost-effective, and provide a positive customer experience.
Empower Your eCommerce Growth
Build Robust and Optimized eCommerce Store With Magento Development
At Team Magento, we offer top-notch Magento development services to help businesses build a robust and optimized eCommerce store. Our team of experienced developers leverages the latest industry-standard coding practices to deliver custom-made eCommerce solutions tailored to meet your unique needs and requirements. With Magento, we bring a combination of scalability, flexibility, and security to your online store. Our developers ensure seamless integration with third-party systems, fast and easy checkout processes, and a user-friendly interface that enhances the overall shopping experience for your customers. Whether you're starting a new online business or looking to revamp your existing store, our Magento development services will help you achieve your goals and reach new heights of success.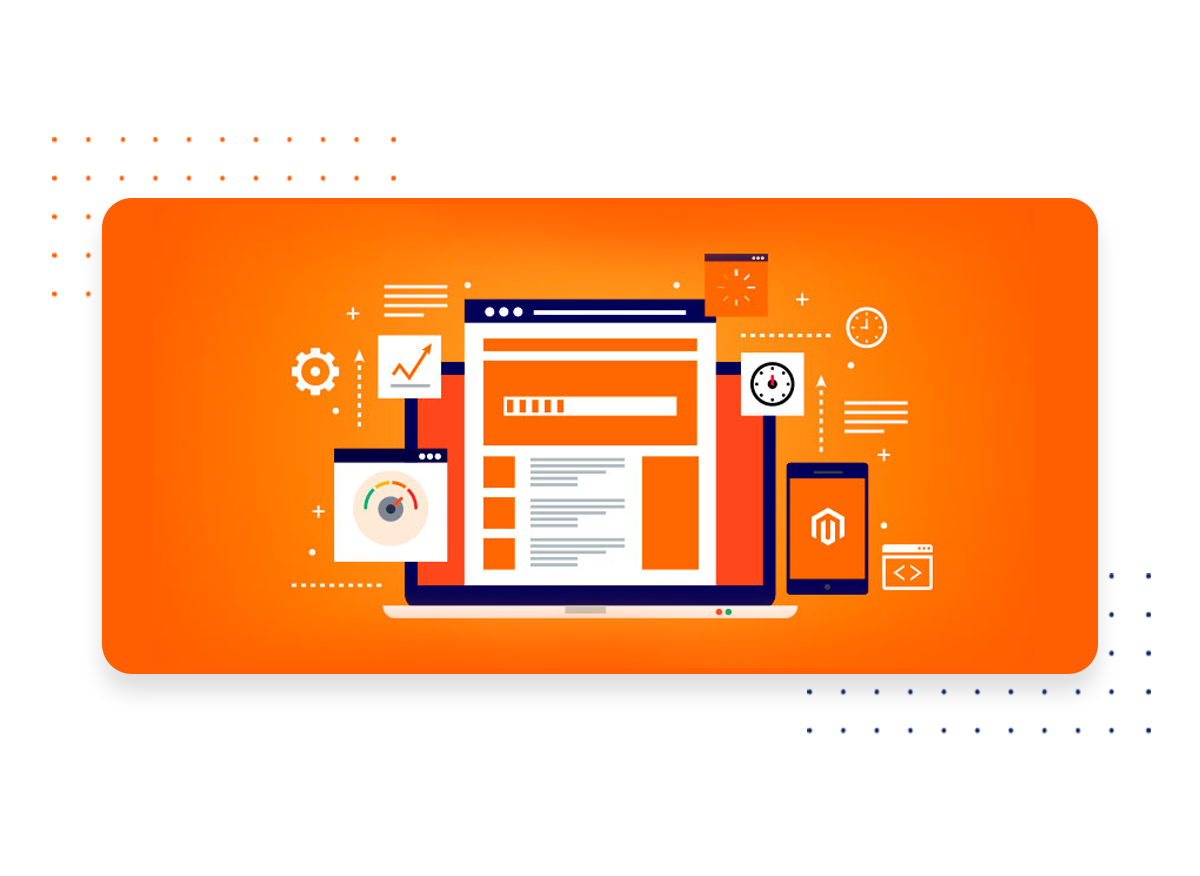 Revolutionize Your Business with Magento Solutions
Why Do You Need Magento Custom
Extension Development?
Maximizing Store Functionality
Magento custom extensions allow store owners to add unique and specific features to their online store that are unavailable in the default Magento platform. This leads to a more efficient and customized shopping experience for customers.
Improving User Experience
Custom extensions can streamline and simplify the checkout process, making it easier for customers to make purchases. This can lead to increased conversion rates and customer satisfaction.
Integrating with Other Systems
Magento custom extensions can be developed to integrate with other systems, such as shipping and payment gateways, making it easier for store owners to manage their operations.
Enhancing Security Measures
Custom extensions can add extra layers of security to a Magento store, helping protect sensitive information and ensure that transactions are secure.
Improving Search Engine Optimization
Magento custom extensions can optimize a store's SEO efforts, making it easier for customers to find the products they're looking for and for the store to rank higher in search engine results.
Saving Time and Effort
Custom extensions can automate tasks and processes, freeing up time and resources for store owners to focus on other essential aspects of their business. This can lead to increased efficiency and profitability.
Choose Excellence Today!
Why Settle for Average? Choose Us
for Excellence

Expert Team
Our team of experienced and certified Magento developers deeply understands the Magento platform and its capabilities. With a wealth of knowledge and hands-on experience, they can deliver high-quality results that meet your requirements.
Customized Solutions
We understand that every online business has unique needs and challenges. That's why we take a tailored approach to Magento extension development, ensuring that each project is customized to meet the specific requirements of our clients. Whether you need a custom module to enhance your store's functionality or a unique design to stand out, our team has the expertise to make it happen.
Streamlined Process
Our development process is designed to be both efficient and cost-effective. We use Agile methodologies and project management tools to ensure that projects are completed on time and within budget. We also keep you informed every step of the way, so you can be confident that your project is progressing smoothly.
On-going Support
Our commitment to customer satisfaction doesn't end once your project is completed. We provide ongoing support and maintenance service to ensure that your Magento store remains in top condition. Our dedicated support team is available to assist you with any questions or issues that may arise.

Latest Technology
The world of technology is constantly evolving, and Magento is no exception. We stay up-to-date with the latest advancements in Magento development, ensuring that our clients receive the most cutting-edge solutions possible. Whether it's a new feature, a better performance optimization, or a security patch, we're on top of it.

Proven Results
Our portfolio is a testament to our expertise and innovation in Magento extension development. From complex custom modules to beautiful designs, our work speaks for itself. Our clients love the results we achieve and are often amazed by what we can do.
Client Satisfaction
Above all, our focus is on client satisfaction. We believe that a happy client is the best indicator of a job well done, and we strive to exceed our client's expectations at every step. Our high client retention rate proves that we're doing something right, and we're proud to serve our clients as a trusted Magento development partner.

Doe John
Working with Team Magento has been a game changer for our business. They delivered exactly what we needed and more, streamlining our operations and improving our overall efficiency. Our customers love the new features,

Jane Smith
We required a new eCommerce store and reached out to Team Magento for help. They were professional, knowledgeable, and a pleasure to work with from start to finish. Our new Magento store has exceeded our expectations

Bob Johnson
We were looking for a partner to help us grow our online business, and Team Magento exceeded our expectations. Their expertise in Magento design and development, combined with their commitment